Electric Filled Pancake Maker
Model: EPC1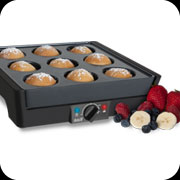 A beloved treat originating in Denmark, ebelskivers are light, puffy pancakes that can be filled with fruit, chocolate, jam or cheese and served for breakfast or as an hors d'oeuvre, dessert or light supper.
Collapsible Popcorn Maker
Model: PM1007-9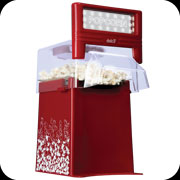 This new to the market theatre style popcorn maker is the perfect fit for family movie night or any home theatre. The PM1007-9 is a hot air popcorn machine that will pop a whole large bowl of popcorn in just a few minutes with healthy results. The theatre style lighted marquee brings the movie theatre style and feel to you.